Skip Navigation

Field Notes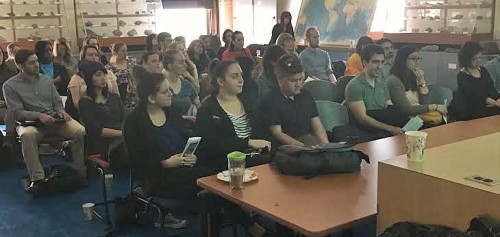 The annual Princeton, Penn, Rutgers, Columbia (PPRC) PhD student conference hosted by E3B
Cheers to Stephanie Sardelis and Brandi Cannon who won first and second place at the Master's SynThesis Competition !!!
Prof Don Melnick and E3B alumn Vijay Ramesh have helped to formulate a more accurate estimate of plant and animal extinction risk. This study which will appear in the journal Biological Conservation indicates a considerably higher number of at risk species. For more information please review the press release on Columbia's front page.
We ♥ Science. See the E3B community demonstrating and supporting the importance of science funding at the March for Science
New E3B faculty member Andres Bendesky recently published his research on the evolution of parental care in monogamous mice. His work has already been cited by Nature and The New York Times. Cheers!
Learn about the Reducetarian Movement established by E3B alum Brian Kateman and how you can effect change in the world
Follow Dr. Kevin Olival and NPR as they travel through natures biodiversity hot spot in the Borneo rain forest of Malaysia.
Red-necked Tanager Cyanocephala spotted by PhD student Pedro Piffer while conducting wildlife inventories to assess the impact of land use changes in the Atlantic Rainforest in São Paulo, Brazil.
Congrats Meredith VanAcker for winning best poster for the Application of Science to Policy Award at the American Museum of Natural History's Student Conference on Conservation Science
E3B making a mark at the NEEP!! On Nov 5th at Northeastern Evolutionary Primatologists meeting, PhD student Nicole Thompson won runner up award for best podium presentation and MA student Lu Gao won best poster award! Great job ladies
Picture taken by M.A. student Nene Ugbah while studying the predatory and spatial behavior of dragonfly larvae in association with habitat and climate change