Skip Navigation

News
From the Field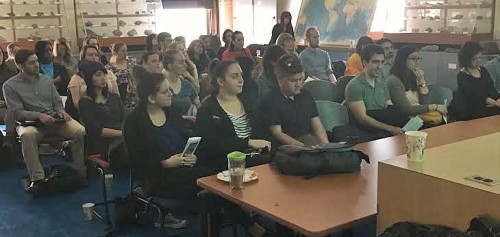 The annual Princeton, Penn, Rutgers, Columbia (PPRC) PhD student conference hosted by E3B
Cheers to Stephanie Sardelis and Brandi Cannon who won first and second place at the Master's SynThesis Competition !!!
Prof Don Melnick and E3B alumn Vijay Ramesh have helped to formulate a more accurate estimate of plant and animal extinction risk. This study which will appear in the journal Biological Conservation indicates a considerably higher number of at risk species. For more information please review the press release on Columbia's front page.
We ♥ Science. See the E3B community demonstrating and supporting the importance of science funding at the March for Science
New E3B faculty member Andres Bendesky recently published his research on the evolution of parental care in monogamous mice. His work has already been cited by Nature and The New York Times. Cheers!
Learn about the Reducetarian Movement established by E3B alum Brian Kateman and how you can effect change in the world
More From the Field
News & Updates
Browse by month:
Congrats to PhD student Amrita Neelakantan and Prof DeFries for being featured by Kevin Krajick of Earth Institute in "When People Must Make Way for […] Read More
Kudos Yuki !! 2017 MA graduate Yuki Haba is seeing the rewards of his hard work and has been accepted to prestigious PhD programs such […] Read More
Congratulations Prof Kevin Griffin for being selected to receive a 2017 A&S Catalyst Grant for your work in "Reducing the Catastrophic Effects of Oak Wild […] Read More
We are delighted to congratulate Prof Don Melnick for being selected as a recipient for the President's Global Innovation Fund. Prof Melnick's research is focusing […] Read More
Congratulations PhD student Holly Fuong on your recent NSF Graduate Research Fellowship award!!
The annual Princeton, Penn, Rutgers, Columbia (PPRC) Phd student conference, will be held here at Columbia this Saturday, May 6th. The conference will run from […] Read More
More News